When content is being generated, it is always better to go ahead with a niche that suits you the best. A niche market is the one which concentrates on a very specific topic or product. Writing about or representing a niche is always better than writing about general topics because the Internet is filled with all kind of information, thus general topics will not bring you visitors that you would expect and it will also not improve web traffic.
Thus, selecting a niche is very important and it isn't an easy task. But, the efforts that will be put into it will bring results that will beyond your expectations. This post shares my experience in selecting a niche and the type of content I write that improved my web traffic.
My experiences are based on my technology Blog: See The Source
1. Identifying your strength
This step involves deciding what to write about. The options here will be broader topics such as Technical articles, Travel articles, fictional work, etc. For the first blog, the trick is to choose the field that you are most confident about. In my case, it was "technology".
Once the broad topic is chosen, the next thing to do is identifying your strengths within the broader topics. This can easily be achieved by brainstorming. In my case the strengths were: Linux tutorials and tips, Python programming, programming principles, Windows software and Raspberry PI. If the field was food blogging, then the strengths could be: continental dishes, homemade dishes, sea food, poultry food, soups, desserts, etc.
Now the brainstormed ideas have to be carefully viewed to select the top two topics that you can write about. I chose Python Programming and Linux tips and tutorials. These two selections will be your niche.
2. Exploiting the Niche
Once you know what you are going to write about and share, you can exploit features that are available for free to help you select the right keywords for your niche. The one that I had used was the Google Keyword Planner. The planner gives you man options to filter and also suggests Ideas for keywords. If you have identified targeted audience by country, you can use that as well. I have used the keyword and my Landing page options and I got statistics that I have used to write articles upon.
Getting the right keywords is not the only option. You can also get the forecasted traffic and ideas for new keywords that you can use. Apart from all these, you can filter ideas based on the language and negative keywords as well. I have tried using language option as a filter as well and I have set it to English. But this didn't cause any significant changes in analysis or prediction.
You must be wondering, how will this help you to improve traffic? Well, when you have planned and got ideas for keywords, you can now know which kind of keywords has how much amount of content on the web. Thus, you can build or create content with keywords that is relevant and has lesser information on the web. This would make your website more unique and bring higher number of visitors would be directed to your website for those particular keywords.
The image below shows how the statistics looks like for the keyword python with my landing page.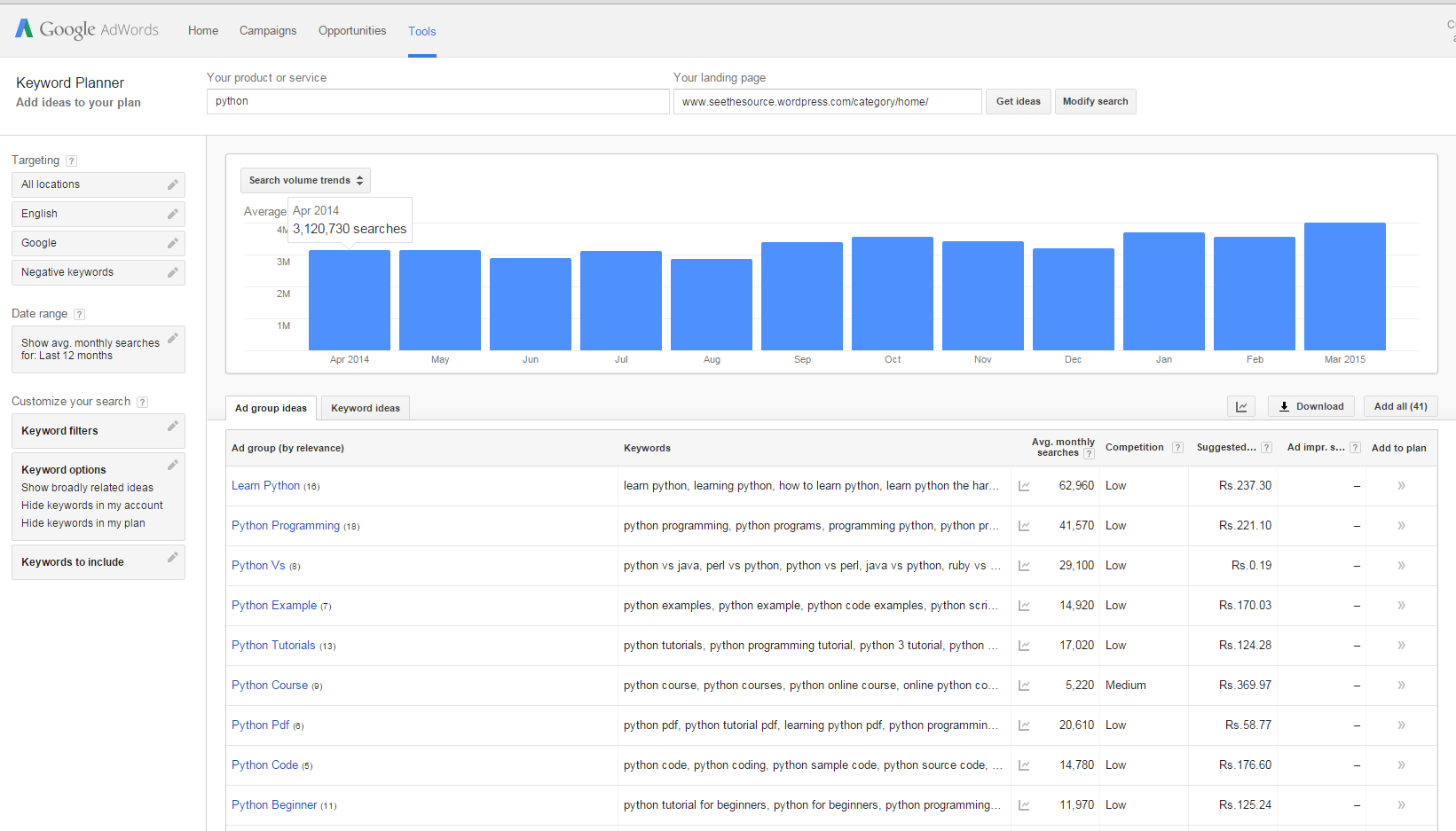 3. Creating Content
Once you are sure about your niche and the keywords that will bring you more traffic, you will have to generate content. There are two ways you can go about doing that:
Use Keywords to find content: The decided keywords in your niche can help you to identify the type of article to write. For example,  my keyword was "list in python" and this lead me to identify what I could write about which was, " how to use list in python". Now I could easily write articles.
Generating Original content: If you have worked on something without taking help from anywhere or if you have solved some kind of a problem, then that work becomes unique to you and you can write about it and expect many people who have the same problem to use user solution thereby improving your traffic.
So this whole thing boils down to identifying your niche and generating high-quality content that makes you unique. This is a process that requires some consistent effort from your side. But when given some time, you can view and compare the traffic to verify improvements in web traffic to your website.
I have added a screenshot of the stats from my blog below. If you see, there are significant improvements in web traffic every 6 months. From the 1st 6 months, the traffic has increased over 8 times for the next 6 and then maintained it further. There is a possibility that I would have shown much more significant results every 6 months if I were posting articles regularly. But, this is enough to verify that improvements are guaranteed by following this method.

This indeed is a time taking process but builds a strong foundation to become a well-known website or blog. However, it is certain that there are other methods to quickly improve web traffic and the fastest among them is to buy genuine, unique web traffic for your niche. The quicker methods as we call it, are suitable for people who have created something new on the web and require a quick attention from the people and for those who want some message to be shared with a wide audience. This being said, the steps above to select a niche and generating quality content is sure of improving the web traffic and at the same time improving the credibility of your website on the long run.
So, how was your experience in finding the right niche? did you use any other methods to do so? share it with us in the comments below!