Web traffic depends on the quality and relevance of the content published on the site. In case of an e-commerce website, it might depend on several factors such has pricing, the variety of products and availability in certain areas. But there might still be chances where you will not get the expected traffic to your website. Consider another scenario, what if you need to get traffic to your website quickly, and that you cannot just depend on the above factors to bring you the required traffic?  In such cases, you will be in the need for guaranteed web traffic.
[sociallocker id="539″]
Guarantying web traffic is possible, but it comes at a cost. But thanks to companies like us, we can bring that to you at a very affordable rate. So, here is how we can guarantee web traffic targeted to your website and how you can go about making use of it.
How We Guarantee Web Traffic
We have a network of over 10,000 websites which receives millions of genuine visitors every day. This network of websites covers a wide range of niches. This way we can advertise your website by directing traffic in the circumference of your niche. So, once you buy traffic package from us, you will start receiving traffic in less than 24 hours.
You can buy traffic at an affordable rate of $0.00012 per unique user. We also provide you with a few options to filter and target traffic and all this without you having to make any expensive marketing materials such as banners and text ads.
How To Buy The Right Kind of Traffic Pack
Firstly, head over to our website to buy the traffic: http://trafficbox.org/buy-website-traffic/
On the right side, you will find the purchase box as shown in the image below. So that needs to be filled up to buy the traffic. So, let's begin.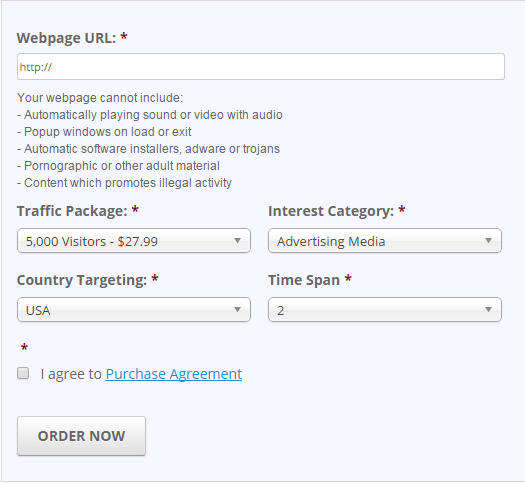 Step 1
The first thing to do is deciding the goal of visits. How much traffic do you want? This step might need trade-offs between the visitors you need and the budget you have. We sell in denominations as shown in the image below. Select the right number and keep it in mind.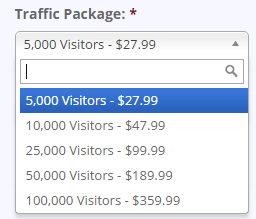 Step 2
Enter the name of your website in the Website URL text box. Read the guidelines given below the text box to avoid wrong URL being used.
In my case the sample website URL is enter is: http://www.seethesource.wordpress.com
Step 3
In this Step, you have to select the number of visitors you had chosen in Step 1. I choose 5000 visitors for my sample order. Also, select the Interest Category related to your website. Here, the URL provided is a technology blog, so the category or niche I select is Technology.
If you have a look at the Interest category, you will find dozens of options with some of the fields being represented as sub-options. In this way, we ensure that you will get the perfect match to your niche and receive the exact type of unique users that you prefer.
Step 4
Select the country that you wish you target. To make a choice here, check your existing web traffic and find out from where the maximum visits are coming. You can use that as your target country. Else you can split your advertising campaign. For example, if you wish to have 10000 visitors in two different countries, then place two orders with us of 5000 visitors each targeting two different countries.
In my case, the given URL gets highest visits from the USA, so I will choose that.
Step 5
Finally, choose a time span. The time span gives you an option to select the number of days for which your campaign has to be run. So, in this case if I have ordered 5000 visitors and selected a time span of 2, then my campaign would last 2 days with each day receiving 2500 visitors.
Once done, agree to the purchase agreement and click on the ORDER NOW button.
The entries till Step 5 are shown in the image below.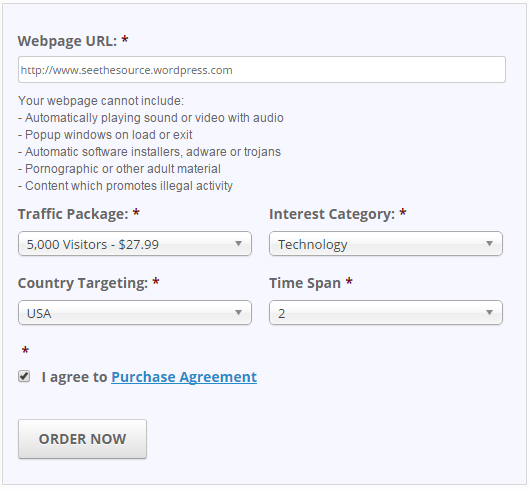 Once you click on Order Now, you will be taken to the payment portal as shown in the image below. We provide two options for payment. The first is the fast pay via PayPal, where you can login and quickly make the payment. The second is the Debit/Credit card payment system.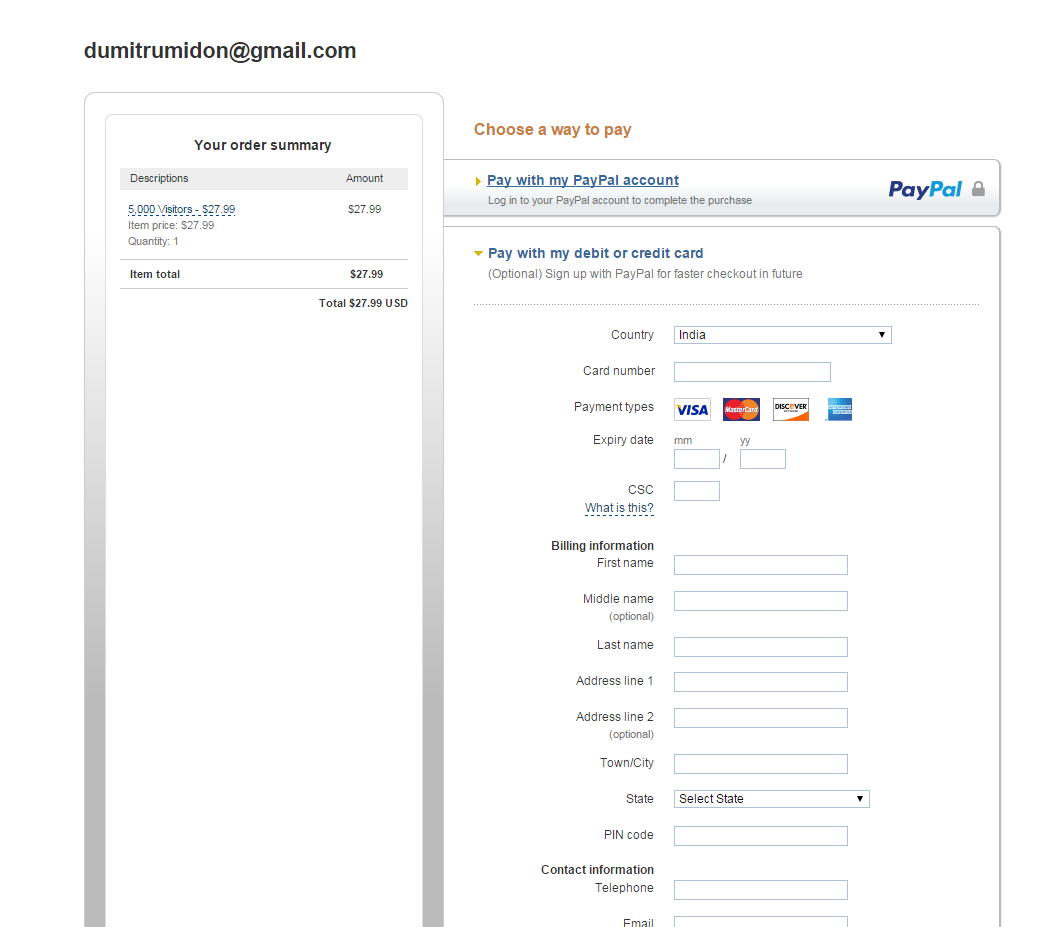 That's it, now you can have guaranteed traffic to your website. Don't you think this is easy? And fast? Share your experiences with us in the comments below!
[/sociallocker]